UTICamp-2021 Main Registration is open! Save your on-site spot till July, 14th, 11:00 PM 2021.
On-site participation
If you are thinking of attending our event in person, here you will have a chance to sit by the cozily crackling fire together with your colleagues on a warm summer evening, sing songs, enjoy watching the stars and spend an unforgettable week in harmony with nature. As well as get trending knowledge from top-notch speakers - leading industry experts, make new useful contacts, and improve your professional skills.
And also:
take part in creative master classes and discover the talents you've never thought you have;
spend a real holiday together with your family: swim, go sup boarding, watch the sunrise by the river, listen to the birds;
enjoy evening concerts with music, dancing, and tasty treats.
To feel this magic atmosphere, join us in person!
Online participation
Our online broadcasting this year is going to be absolutely breathtaking! We have mixed our presentations with entertaining breaks and lively discussions in such an exciting way that UTICamp-2021 will be a real localization show. We want to unite a global audience at an inclusive event without borders, and we invite you to join us in order to:
watch broadcasting of all the presentations on our website but also let your eyes rest on the greenery of the forest;
have a customized menu to switch between the tracks and choose the content you like;
choose a preferred language of the presentation (original / English);
participate in interactive networking and Q&A sessions: listen to additional presentations and chat with the speakers and participants;
watch broadcasting of our evening concerts and entertaining program;
take part in raffles by the organizers and sponsors with a chance to win great prizes.
Join our localization show from any corner of the world!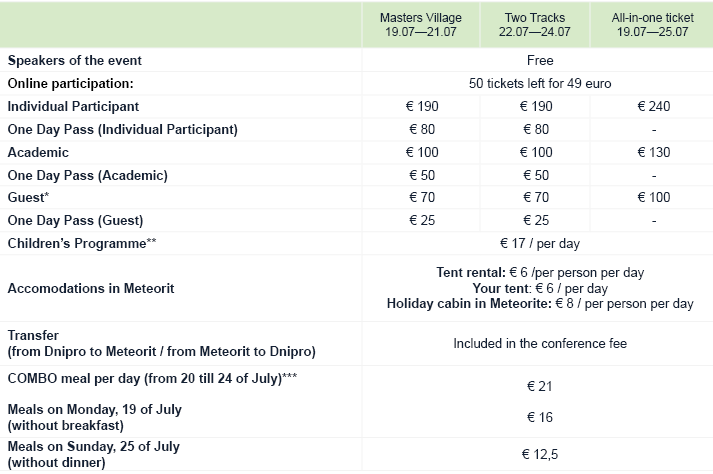 *Guest Tickets are intended for participants who do not attend the translation workshops or presentations but are in the conference venue, attend coffee breaks and take part in the additional programme.
**Children aged from 5 to 12 can participate in the activities on their own, while kids from 3 to 5 years of age must be accompanied by one of their parents.
***A welcome buffet is included in the participation fee!
Please pay attention that a separate lunch will not be offered during the children's programme activities.
Registration
You can register and order any additional services in the form on the conference website. If you are already registered for the conference and would like to order additional services, please drop us a line at info@utic.eu. Participant status is granted automatically to those who have paid for participation in the conference.
Conference participants are subject to the terms specified in the standard form contract.
Payment
Once you fill in the registration form, an invoice will be sent to your email address.
Payments can be made by bank transfer within 3 business days.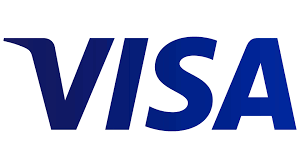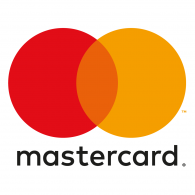 Cancellation policy & Refunds
Tickets to offline conferences can be refunded up to a certain date:
a full refund (minus a bank commission (up to 25-35 euro) and a handling fee (20 euro)) is available up to April, 1st
a 50% refund (minus a bank commission (up to 25-35 euro) and a handling fee (20 euro)) is available up to May, 1st
As a general rule, tickets to online event cannot be refunded (you'll have access to the recordings if you're not available to attend) or you can transfer such tickets to other people.
If an offline event cannot take place, we will make all reasonable efforts to transfer the event to an online platform. In this case you will have an option to (a) accept attendance at the online event and receive a refund of your original purchase amount minus the price of such online event, or (b) refuse attendance at the online event, and receive a full refund of your original purchase amount (minus a bank commission (up to 25-35 euro) and a handling fee (20 euro))
If an online or an offline event cannot take place due to the Organizer's fault, you will receive a full refund of your original purchase amount within 60 days of the scheduled starting date of such event.
If an online event cannot take place due to force majeure, we will do all reasonable attempts to hold such event at a later date, within a reasonable period of time.
To cancel your registration, you must send a written request to a representative of the organisational committee at the email address info@utic.eu.
Photo and video recording
Amateur photography and video recording are permitted in all conference sessions. The organisers of UTICamp will be conducting professional photography and video recording and have the right to use and publish (i. e., play) recorded, printed and other materials. By registering to the conference, you agree to the use of photo and video materials that may contain your image or voice. These materials may be used for marketing purposes for future conferences.