Outdoor activities always stimulate appetite. This is particularly true if you are planning not just to relax but also to actively participate in the conference. We have prepared various catering options to satisfy every taste. Our chefs will cook for you a combo breakfast, lunch and dinner with a variety of delicious choices. Meals for each day can be purchased in advance at a special price. You can pay for your combo meals when you arrive but the price will be 20—30% higher. It is cheaper to pay for combo meals in advance than to buy separate dishes at the campsite.
You can always buy coffee, soft drinks and ice-cream in various flavors at Meteorit campsite. See below for some information on the menu.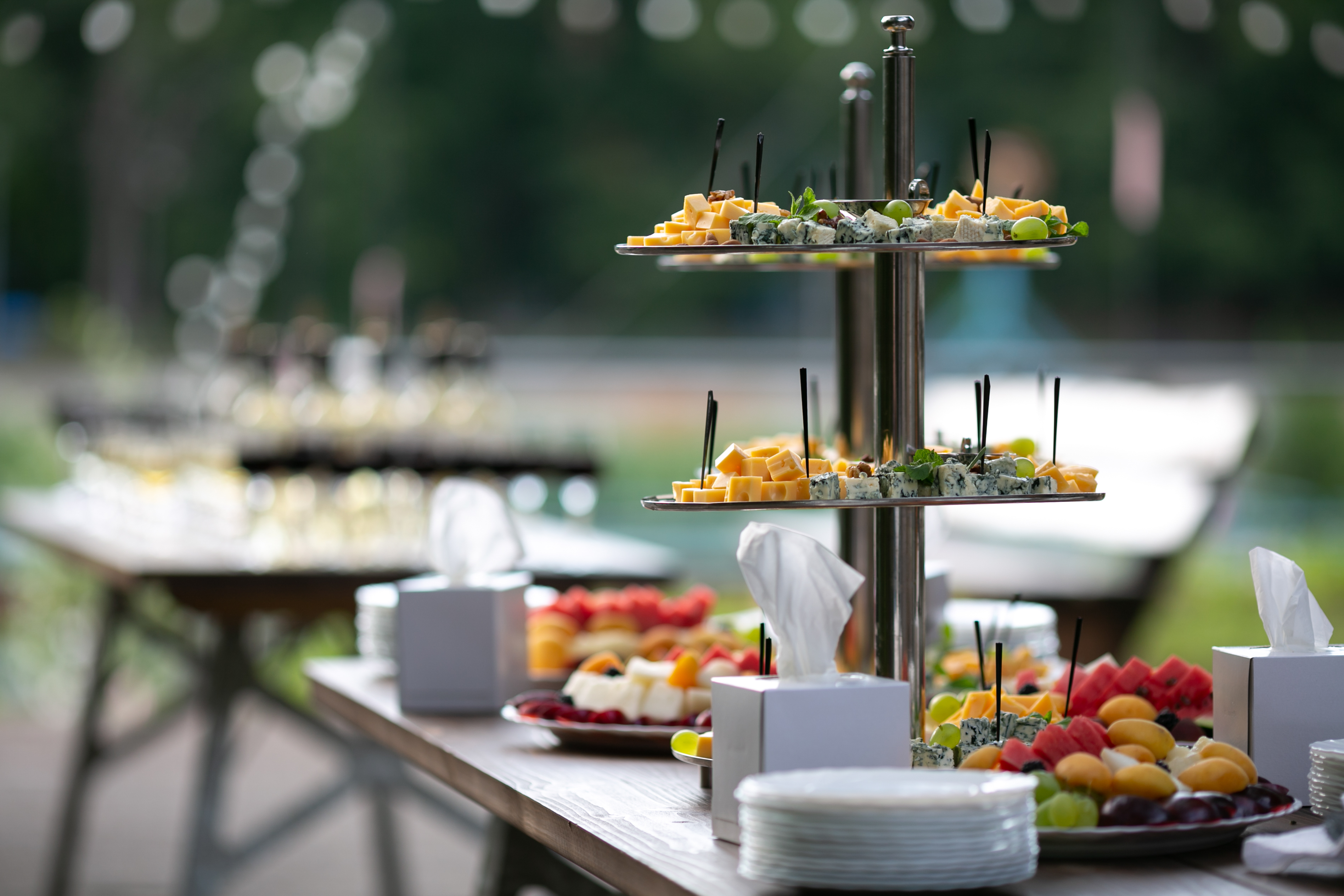 Breakfast (€ 5)
Breakfast is the most important meal of the day. So, the combo breakfast will include:
hot egg dish: omelette, American scrambled eggs, shakshuka, traditional fried eggs
fresh seasonal vegetables
cheese and sausage cold cuts
bread
mixed seasonal fruits
yoghurt
oatmeal porridge
tea or stewed fruit.
Lunch (€ 7.5)
A hearty and healthy lunch with a variety of choices:
hot dish: soup of the day. This can include chicken soup, borscht, okroshka, fish soup, shurpa and vegetable cream soup
meat with garnish: Transcarpathian banosh, Caucasian-style pilaf, new potatoes, grilled vegetables, beef stew, etc.
fresh seasonal vegetable salads
Dinner (€ 8.5)
Dinner is the time to gather around the table when the conference presentations are over and everyone wants to share their impressions over a meal. The price of your combo dinner includes a glass of red or white wine!
grill menu: perzola, minced lamb kebab, grilled vegetables and much more
hot side dish: potatoes, rice with vegetables, couscous, etc.
fresh seasonal vegetables: fresh vegetable salads and mixed cuts
Each combo meal includes bread, tea and stewed fruit.
Welcome Drinks (included in the conference fee)
It is the time for meetings, hugs and introductions. So we suggest that participants meet, socialize and plan the upcoming conference days on the river bank at the pier in the light of garlands on July 19 and 22. We invite everyone to take part — access is free for all conference participants. You can pre-pay for welcome buffet meals which include Ukrainian specialties, snacks and fragrant wine. A good appetizer before nourishing dinner.
Gala Concert
We used to organize Gala Dinners, but this time, we will bring all the participants together with socializing and music. We invite everyone to take part in gala concerts — access is free for all conference participants. You can pre-pay for combo dinner, a fine addition to the gala concert. Near the stage, there will be a bar where you can buy your favorite drink.
Children's Menu
The young conference participants will have breakfast, lunch and dinner with their parents. We recommend that you buy a combo menu for your kids, however, if you think meals are too large for your child, you can buy separate dishes from the menu.
ATTENTION: A separate lunch will not be offered during the children's programme activities!